While our first love is needlepoint we want to share the Jennifer Pudney world with those that enjoy cross stitch.
Our most popular designs are now available as cross stitch designs.
Bathing Beauties and The Gardener's Bottom.
"This design was inspired by a beauty contest where votes were made by donation.
Whoever collected the most money won. When I was little, I thought whoever was the biggest won."
"My mother's friend is always gardening. She has a special pair of shorts that she says she wears instead of makeup,
because that is all you see of her when she is gardening.."
Our design family has been joined by Mary Self and Arna Horn with some fresh new cross stitch designs.
"I am always captivated by the graphic designs on ceramics so when I saw the Elayne Fallon Weston Teapot
from Staffordshire Potteries I just had to stitch it. It is so reminiscent of the 1960s and 70s that as I was stitching
the cool blue/teal/lime colourway I wondered how it would look in hot red/orange/pink colours."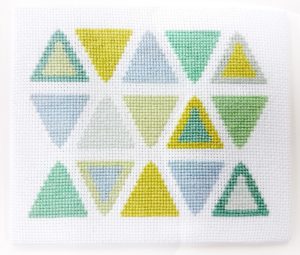 Tumbling Triangles designed by Arna Horn
"Tumbling Triangles is a geometric design inspired by the town houses on the hills surrounding Thorndon.
Walking from the train station to work I would often take in the layered roof structures of the houses.
I wanted to develop a design that is clean, crisp, with a simplistic colour palette"